HD diagnostic device for COVID-19 serological testing and immune status characterization
CoViDiag is a novel High-Resolution COVID-19 serological diagnostic device. Developed with the cutting-edge multiplex Syrius technology, it simultaneously detects and identifies various antibodies produced against the SARS-CoV-2 virus, offering very precise and reliable results, with exhaustive immune profiling. Perfectly automatable on several mainstream devices, CoViDiag is a very competitive technology, that enables to test and characterize several hundred samples a day. Its precision can confirm positive or negative samples with a very high accuracy. CE marked and validated by the CNR (Pasteur Institute). Covidiag is compliant with french HAS (Haute Autorité de Santé) and regulatory demands.
Key points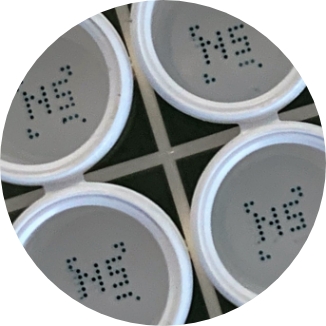 Multiplex ELISA-like test for the serodetection of different anti-SARS-CoV-2 IgG antibodies.
Using 5 antigens printed side by side in the same well: Nucleocapside (N), Spike 1 subunit (S1), receptor binding domain of the S1 (S1-RBD), N-terminal domain of the S1 (S1-NTD), and Spike 2 subunit (S2) to give a comprehensive and educated response.
The combination of N and S1 antigens increases diagnostic performances1,2: 99,6 % specificity and 95,9 % sensitivity*.
The addition of the S1-RBD, S1-NTD and S2 antigens enlarge again the comprehensive picture of the humoral response diversity.
Standard lab equipment. Quick visual interpretation**.
IgM and IgA version of the test shall be available soon .
*Diagnostic sensitivity on plasma samples collected over 8 days after symptoms onset and infection confirmed by rt-PCR.
**Automated interpretation is available on a specific reader.
To obtain Covidiag kits and assistance, please contact us using the following form:
You can also contact us directly
by phone: +33 (0)3 28 55 51 29
or by email: This email address is being protected from spambots. You need JavaScript enabled to view it.