5 antigens combination to enhance SARS-CoV2 serological test performances
CoViDiag is an High-Resolution COVID-19 serological diagnostic device. Developed with the cutting-edge multiplex SirYus technology, it simultaneously detects and identifies 5 antibodies produced against the SARS-CoV-2 virus, offering very precise and reliable results, with exhaustive immune profiling.
Perfectly automatable on several mainstream devices, CoViDiag is a very competitive technology, that enables to test and characterize several hundred samples a day.
Its precision can confirm positive or negative samples with a very high accuracy. CE marked and validated by the CNR (Pasteur Institute), Covidiag is compliant with french HAS (Haute Autorité de Santé) and regulatory demands.
Key points of CoViDiag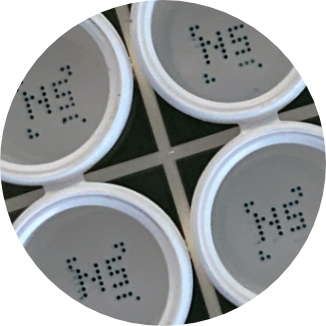 High Performances : 99% specificity and 98,2% sensitivity*
High Definition : 5 antigens tested in one test (anti-N, anti S1, anti-S1-RBD, anti-S2, anti-S1-NTD)
Flexibility : IgG, IgA or IgM detection
Simplicity : Same Protocol as an ELISA Test
Adaptability : Standard lab equipment : Quick visual interpretation **
*Diagnostic sensitivity on plasma samples collected over 8 days after symptoms onset and infection confirmed by rt-PCR.
**Automated interpretation is available on a specific reader.
References
An Original ELISA-Based Multiplex Method for the Simultaneous Detection of 5 SARS-CoV-2 IgG Antibodies Directed against Different Antigens. J Clin Med. 2020 Nov 21;9(11):3752.
Longitudinal Analysis and Comparison of Six Serological Assays up to Eight Months Post-COVID-19 Diagnosis. J Clin Med. 2021 Apr 21;10(9):1815.
CoViDiag Product Range
| Products | References |
| --- | --- |
| 96-tests kit SirYus CoViDiag CE-IVD for IgG detection | #2001 |
| 96-tests kit SirYus CoViDiag RUO for IgM detection | #2004 |
| 96-tests kit SirYus CoViDiag RUO for IgA detection | #2005 |
To obtain Covidiag kits and assistance, please contact us using the following form:
You can also contact us directly
by phone: +33 (0)3 28 55 51 29
or by email: This email address is being protected from spambots. You need JavaScript enabled to view it.