A Complete multiplex solution for blood grouping
The versatility of SirYus-IH offers an easy transfer to existing lab workstations and could replace gel cards in a near future. The SirYus-IH technology's breakthrough enables automated, fast and low-cost multiplex blood grouping tests
SirYus-IH is an innovative patented multiplex approach using hemagglutination principles. This method allows the complete blood grouping (ABO, D, IAT and RhKhell) using only 4 wells instead of tens. The process will require few microliters of samples with a time to result equivalent to gel cards.
The SirYus-IH products consist of:
Test wells printed with anti-group antibodies for the in-parallel capture of red blood cells
Reagents required for RBC dilutions and handling
Tests are designed to run on gel cards workstations and enable to multiplex existing tests when using same reagents and consumables.
Easy to implement: same process as gel cards
Cost reduction: test wells, reagents and wastes are rationalized,
Workflow improvement
The way it works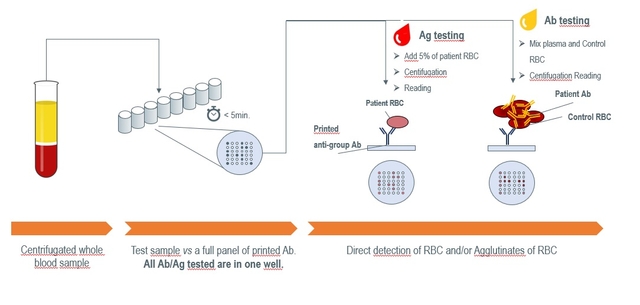 Comparison chart
GEL CARD BASED ASSAY
ALTERNATIVE MULTIPLEXE APPROCHES
Sample needed
5 µL of red cell or 50 µL of plasma
<5 µL of red cell
or <100 µL of plasma
3 µL of red cell
or 80 µL of plasma
Buffer
LISS based buffer
Existing commercial buffer
Nd
Time to first result
< 10 min for direct and back typing, IAT or phenotyping
< 10 min for direct and back typing or phenotyping, 30min for IAT
35 min
Throughput
< 1000 samples/h
High versatility and easy adaptation on existing systems
>2000 samples/h
DEVICE
Format
6-8 Simplex tests
8 Multiplex tests
2 Multiplex tests cartridge
Material
Plastic
Plastic
Glass slide (Safety issue)
Shelf life
> 6 months
6 months
Waste, reagents and consumables
One set per plex
5 times less, average
5 times less average
COGS
Due to concept, SirYus is highly competitive